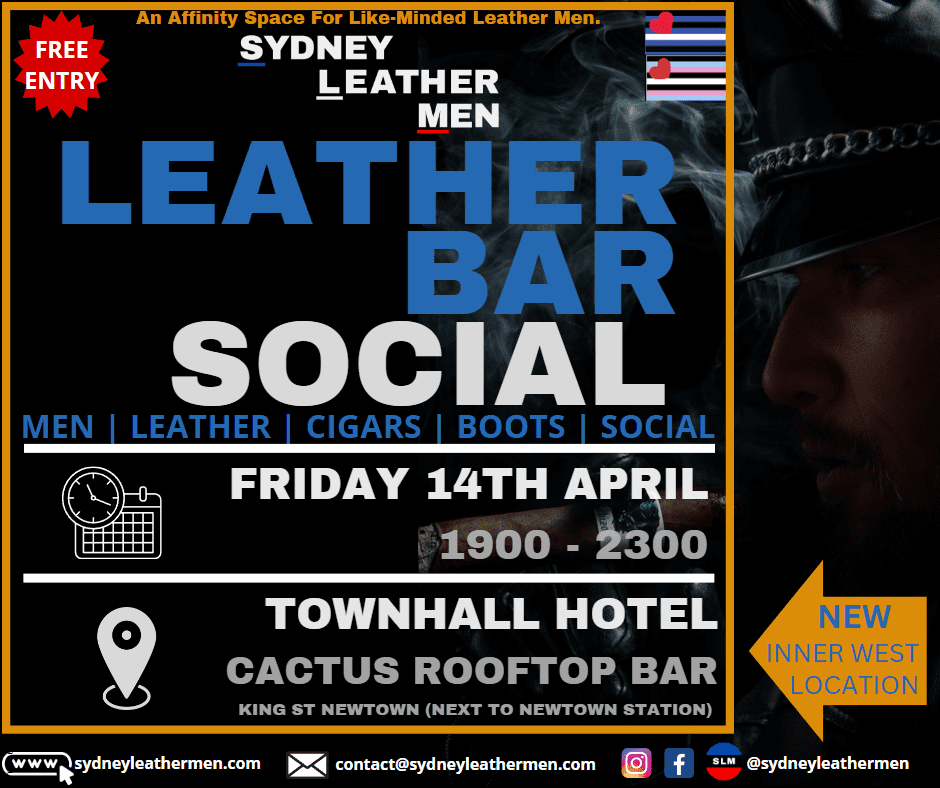 Sydney Leathermen Presents a 'POP Up' Leather & Cigar Bar in the Inner West for Likeminded Leathermen.
FREE Entry
This is an SLM Leather & Cigar Bar Social on the rooftop of the 'Townie' overlooking Newtown Station and surrounds. Transport like buses and trains are right at the door step.
Like our normal events this is 'testing the waters' for having something more regular in the Inner West. (don't fear we intend to continue to hold events in town). These socials are about Leather Men being able to connect, bond  and enjoy Leather gear, cigars and Tabaco Pipes and basically socialise without attitude in a friendly and accepting environment.
Our venue is The Cactus Rooftop Bar at The Townie (aka Townhall Hotel Newtown). There is a lift for those who don't feel up to the stairs and can be accessed from the rear of the ground floor. Food is available on the Roof top but will need to be consumed away from the smoking space and for those keen for a whickey and a Cigar there is a selection of spirits and beers are by the 'tinnie' can except for 1 reasonable tap beer. Please note that on the rooftop only drinks bought on the rooftop can be consumed on the rooftop area and you wont be able to bring drinks up without putting them in plastic. (again we are testing how this will go)
This Event has a Major piece of Leather & Boots Dress Code & BYO Cigars.
Members guests, newcomers and aspiring Leathermen are absolutely welcome and can attend once without complying fully with the Dress Code. After one attendance they will be required to borrow or buy a major piece of leather.